About Douglas Hanson, M.A., CCC, CCRC
Psychotherapist – Certified EMDR Therapist in Winnipeg
Personal Background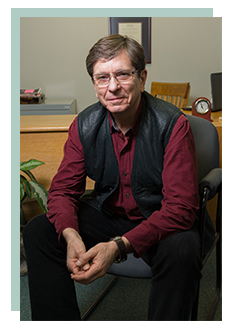 As a young man, I often found myself being called upon to help others who were having difficulty coping with life situations. I felt compassion for them and had a great capacity for empathically listening to them.
Because I had such a keen interest in learning how to be an effective helper, I pursued the training and experience necessary to become a psychotherapist.
Since becoming a counsellor, I have come to suspect that my own early history of difficulties sensitized me to the emotional needs of others; particularly those who have suffered from a history of neglect, rejection and/or abuse.
I am pleased that, over the years, I have become highly effective at counselling others. When clients who come to me with relationship struggles, depression, severe anxiety, or trauma, leave therapy feeling happy and excited about life, I feel that I have achieved my life's purpose.
Professional Experience as a Counsellor      
My professional background includes 27 years' experience as a therapist in the following areas:
Psychotherapist for people struggling with:

Relationship issues for individuals and couples
Anger management
Addictions to cannabis, alcohol, pornography, sex, and gambling
Traumatic abuse (i.e., childhood, sexual, and spousal)
Traumatic events such as motor vehicle and workplace accidents, and physical assaults
Life transition issues (e.g., work-life balance, caring for elderly parents, grieving, chronic illness)
Vocational Rehabilitation Counsellor for individuals with workplace mental health issues
Vocational Rehabilitation Counsellor for individuals with traumatic head injury, chronic pain, chronic fatigue syndrome, fibromyalgia, and musculoskeletal disabilities.
Counselling Credentials
MA in Counselling Psychology, University of British Columbia, Vancouver, BC
BA in Psychology, Lakehead University, Thunder Bay, ON
Diploma in Social Work, Confederation College, Thunder Bay, ON
Specialized Therapy Training
Eye Movement Desensitization and Reprocessing (EMDR) for the treatment of trauma – Certified EMDR Therapist
Cognitive Behavioural Therapy (CBT) for the treatment of depression and anxiety
Mindfulness Based Cognitive Therapy (MBCT) for the treatment of depression and anxiety
Emotionally Focused Couple's Therapy (EFT)
Experiential Therapies for the Treatment of Trauma and Abuse
Professional Memberships:
Certified Clinical Counsellor (CCC), Canadian Counselling and Psychotherapy Association
Certified Canadian Rehabilitation Counsellor (CCRC), Commission on Rehabilitation Counsellor Certification (CRCC)
Publications:
My early professional career focused on psychiatric rehabilitation and mental disability management. During this time, I wrote and published research articles in the following areas:
The Effect of Rehabilitation Services on the Incidence and Duration of Disability
The Financial Cost and Benefits of Rehabilitation Services on Workplace Disability
The Humanitarian Benefit of Rehabilitation Services on Workplace Disability
Job Accommodations for Individuals with Mental Health Issues in the Workplace
Impact of Employer Attitudes towards Individuals with Mental Illnesses on Rehabilitation and Return-to-Work Outcomes
Published Papers:
Schultz, I.Z., Milner, R., Hanson, D. B., and Winter, A., (2011) Employer Attitudes Towards Accommodations in Mental Health Disability. In: Schultz IZ, Rogers ES (Eds). Work Accommodation and Retention in Mental Health. Springer, New York
Schultz, I. Z., Hanson, D.B., Duplassie, D., and Winter, A., (2011) Systemic Barriers and Facilitators to Job Accommodations in Mental Health: Experts' Consensus. In: Schultz IZ, Rogers ES (Eds). Work Accommodation and Retention in Mental Health. Springer, New York
Hanson, D., An Exploration of Job Accommodations For Employees with Depression. In: Insights: The Clinical Counsellors' Magazine & News, Fall 2007, Volume 19 # 2.
Co-authored, Transferable Skills Analysis. (Summer,1997). In: Rehab Review.
Co-authored, The Chronic Fatigue Syndrome: A Position Paper., 1995 In: The Journal of Rheumatology, 23:3
On a Personal Note
I value the concept of a balanced life in the quadrants of mental, physical, emotional, and spiritual health.
Relationships are a priority with my partner, children, and grandchildren. I am keen on meeting new people from varied backgrounds, experiences, and cultures.
I enjoy travelling, the performing arts including live theater, music performances including blues, jazz and folk, and the visual arts. I also engage in regular physical exercise and outdoor activities including walking, camping, and boating.
Becoming a therapist has taught me much about life. I have more patience and compassion for others and myself. I also have a good work-life balance.
I have learned that we are all just a breath away from being a client with mental health problems. Yet, we have the ability to overcome even the most trying of these challenges.
If you want to achieve greater happiness and fulfillment in your life through the process of psychotherapy, please contact me for a no-charge, 10-minute phone consultation.
Together, we can determine whether my therapeutic approach can meet your needs.